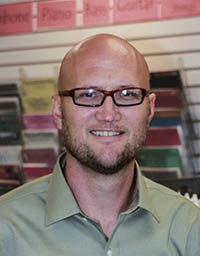 Philip Golla
[email protected]
A veteran of the music industry, Philip Golla brings a wide array of experience to his position as manager of our Redlands store. An extensive background in woodwind repair complemented by retail sales and rental management gives Philip the broad-based knowledge necessary to do his job well.
Philip's playing career started with the clarinet, leading in time to the saxophone, then flute, and most recently, guitar. As an active performing musician, on any given weekend you might find him somewhere in southern California, belting out vocals and playing tenor in his soul-funk band the Carnevel Kings.
Running the Redlands store gets me up in the morning! I can't say enough good things about our great staff and our wonderful family of customers.